Monitoring visitors on a website
Included for free in plans
VIP
PRO
Agents can monitor online visitors on your website and start a chat manually in our desktop or web application . This can also help to restore a chat in case of a chat disconnection for any reason.
How to work with the visitor's monitor feature.
To view your visitors list go to the "Website visitors" on the left panel in the app:
Let's look at the main fields in this window:
1.The city of the visitor (or if the visitor fills in the "name" field in the chat, it will show only name instead)
2.Time that the visitor spent on the website
3.Visitor's current page (this field refreshes on navigation)
4.Number of website visits
5.Number of visitor's chats for all time
6.Number of pageviews per current session
7.Current client status
8.This icon shows visit source. Detailed information shows on mouse hover.
9.Name of an agent who is chatting with a visitor
If an invitation was sent by another agent, an the agent name is displayed. (but when proactive invitation was sent by current agent, the "Chat" button is displayed)
If an invitation was not sent, the "Chat" button is displayed
If a visitor is chatting, responsible agent is displayed
How to start a chat
If you want to invite a new visitor to a chat or send him more messages after proactive invitation was sent from your name, you should click on the visitor in the list and press the "Chat" button on the right panel.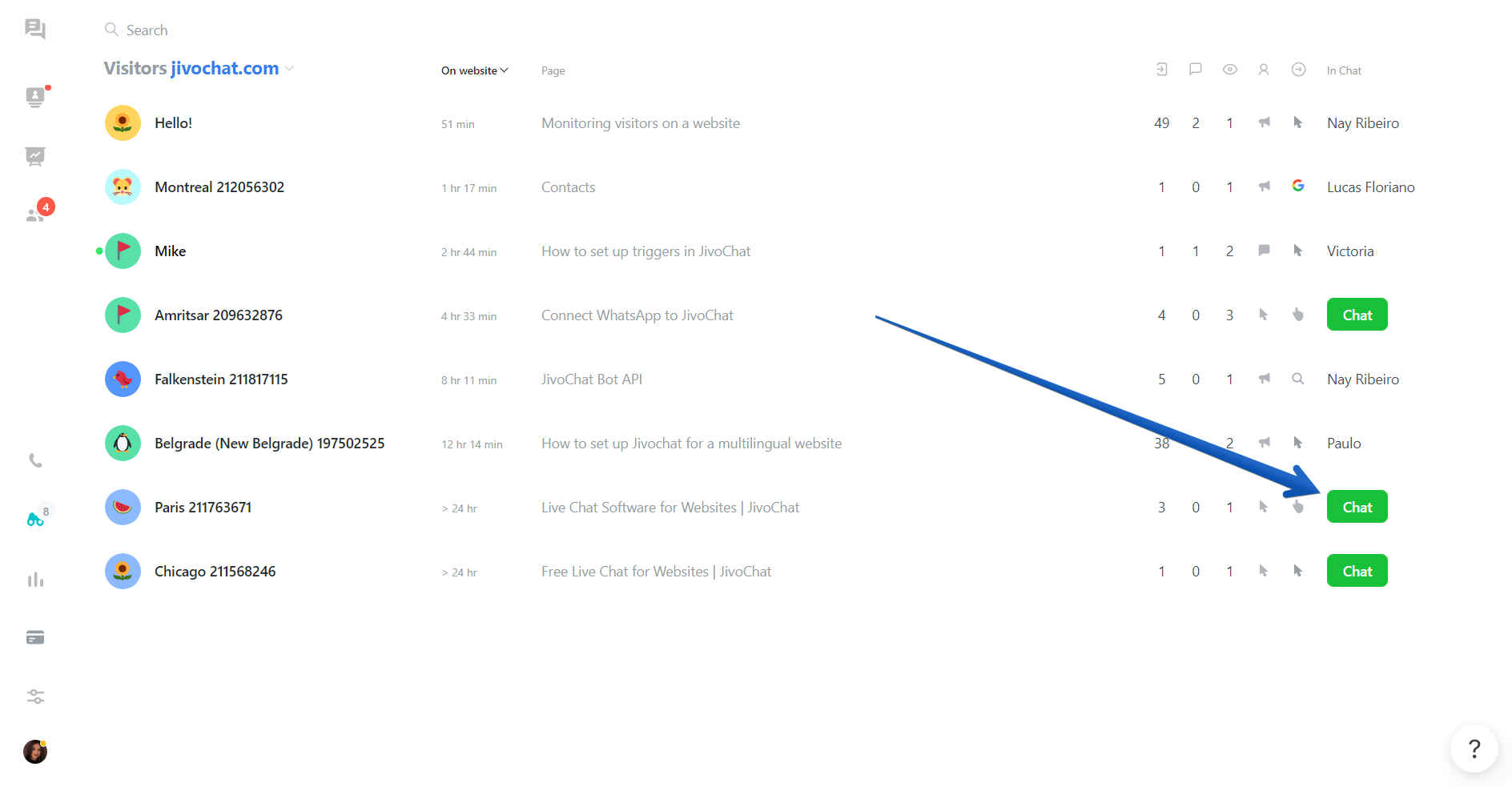 Congratulations, now you know how to use Visitors monitor feature!
Please be aware that visitors monitoring feature is not a statistic tool for counting visitors. This feature only shows visitors that see the online chat and allows to invite them to chat manually. If visitor see the offline form (for example if you are in Away mode or just connected), he will not be shown in the list of visitors until he refresh the page or move to another page and see the online widget.
So if you see the differense between Google Analytics and our application, don't worry, this is a normal behavior. Visitors monitoring uses another way to count visitors and it was designed for another purpose.
The best way to check how does it work is open your website and check: after you see the online widget (with the green leaf), you appear in the list after a few seconds. When you close all the tabs, you will be removed from the list.
Ask in the live chat, we are ready to help around the clock