How to purchase more licenses for your subscription
Included for free in plans
VIP
PRO
Please follow the steps below to purchase extra licenses for your existing subscription of JivoChat Pro:
1. Access the JivoChat web app or our Desktop app, go to the "Pro Version" menu and click "Add operators".
2. On the next screen, you'll be able to see details about your current subscription and select the number of licenses you want to add.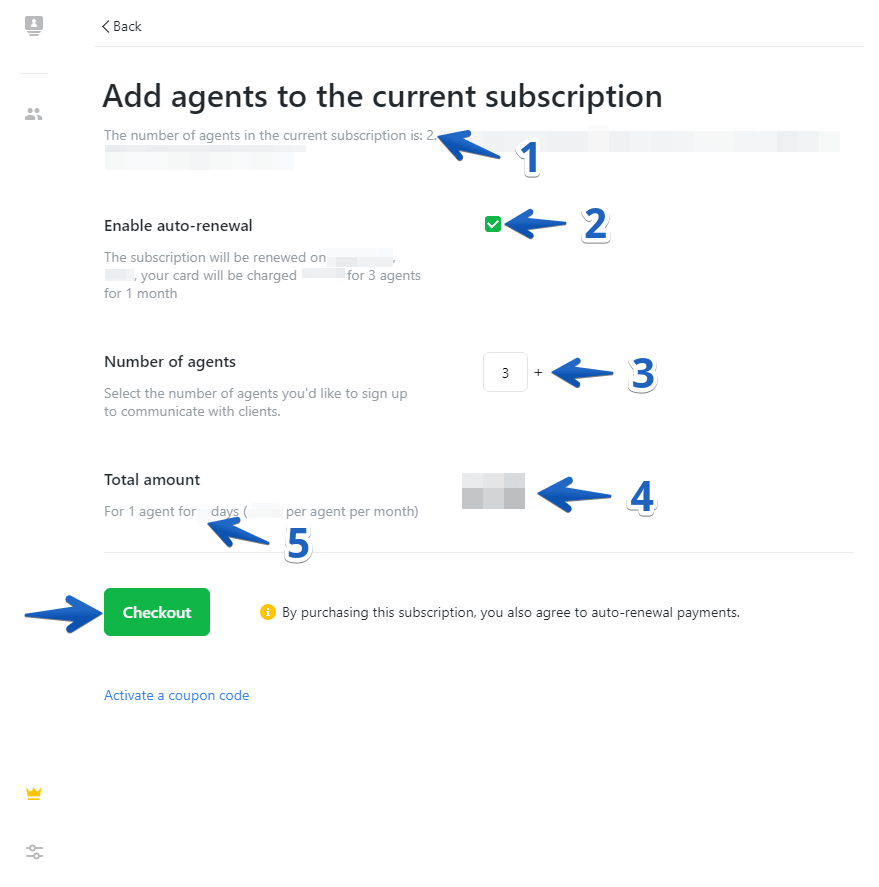 1. Number of licenses on your current subscription.
2. Enable or disable the auto-renewal. Please notice that by enabling the auto-renewal, you agree to be automatically charged for future renewals of your subscription for as long as you keep this option enabled.
3. Select the total number of licenses you want to have in your account. The minimum value here will be your current number of licenses plus one. In this example, the account had 2 existing licenses, so the minimum new amount is 3.
4. Total amount of the purchase. Please notice that you'll initially pay only for the remaining days of the current subscription for the extra licenses you want to purchase. The full payment for all licenses will be made in the next renewal date.
5. Number of days left in the current subscription, which directly affects the total value you'll pay for adding the extra licenses.
After you're done, proceed to "Checkout" to pay for the extra licenses. If you have any doubts about the checkout procedure, please check our tutorial clicking here.
That's it! If you face any issues or have any doubts, we're available 24/7 in the chat on our website or at info@jivochat.com.
Ask in the live chat, we are ready to help around the clock